The quality fiber lasers are used in our laser marking machines. The excellent beam quality and power stability of the fiber lasers make our fibre laser markers a multi-purpose tool. The simple integration of the system requires no after-installation service. The fiber laser machine is the ideal solution for a broad range of industrial applications.
There are five types of configurations: OEM, integrated, portable, separated & enclosed fiber laser markers. For portable or separated laser marker, you may need a lab jack to place your workpiece. For integrated marker, the laser is placed on a Z-axis adjustable table to mark the workpieces with various height. For safety, you can use an enclosure to cover the laser. For OEM laser marker, you just buy these individual parts/system and then you assemble these parts into your own marking system.
Our laser marking systems are being widely used in laser marking of hard, fragile or soft products or materials in production lines.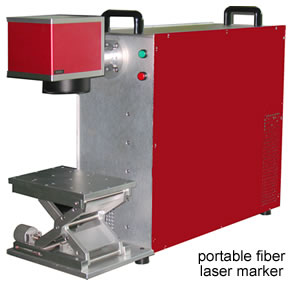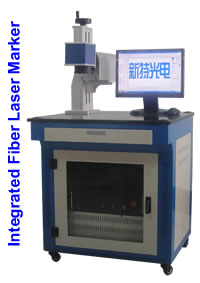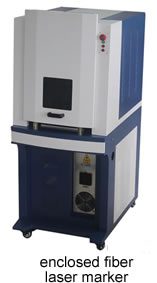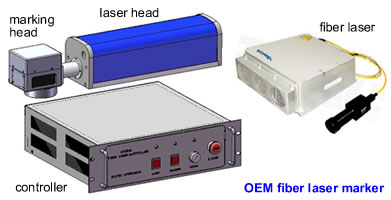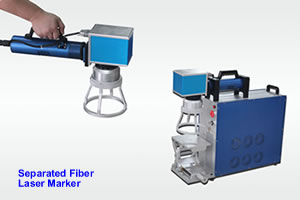 Part number description:
M-FFxx-yyy-zzz
M - laser marker.
FFxx - 1st F means fiber laser, 2nd F means the laser brand, xx means fiber laser power in watt.
yyy - marking field in mm.
zzz – nothing means integrated fiber laser marker, OEM means OEM fiber laser marker, ENC means enclosed fiber laser, P means portable fiber laser marker.
Model

M-F10-100

M-F20-100

M-F30-100

Laser Head

Laser type

Fiber laser

Fiber laser

Fiber laser

Mode of operation

Pulsed

Pulsed

Pulsed

Beam quality M2

1.5

1.5

1.5

Polarization

Random

Random

Random

Laser wavelength (nm)

1080

1080

1080

Laser power (W)

10

20

30

Pulse energy (mJ)

0.5

1.0

1.0

Repetition rate (kHz)

20-100

20-100

20-100

Pulse duration (ns)

30

30

30

Output power instability (%)

2

2

2

Cooling method

Air

Air

Air

Marking Head

Scanner

High-speed optical galvanometers

Marking field

100x100 mm (others available upon request)

Max scanning speed

300 characters/second or 10m/s

Marking line

Min. 0.05mm

Marking software

Various fonts, pictures (PLT, BMP), automated series numbers, barcodes, DataMatrix
Typical Applications:
1. Laser marking of metal & non-metal materials and products: stainless steel, copper, aluminium alloy, ceramics, plastics, organics, thermo-elastomer rubbers, paper, name cards, turbine blades
2. Electronic industry: capacitor, inductor, PCB, IC, connector, control panel, instrument
3.Others: cosmetics, food package, bottle, gift, advertisement & sign crafts, craft & gift making